1. The Ocean Theme Projector can project colorful lights on your ceiling or walls to create a romantic, relaxing and delightful atmosphere. Provide a feeling of lying on the beach late at night, watching the waves come in
2. 12 high-end ultra-bright LED large size chip beads (4 red beads, 4 blue beads, 4 green beads) allow a wider projection area, clearer projection and longer durability,
3. 7 color changing Modes of different type of ocean waves
4. The projector light can read TF card or can be connected to 3.5MM audio interface devices like cell phone, PC, notebook and MP3. The Ocean Theme Projector has a built in High Power Speaker. The audio system is equipped in the base to provide more sensational acoustic effect
5. Smart Touch Key: The power key is the on/off switch and light mode switch key. Press and hold the key for 3 seconds to start. Touch it to select one of the seven light modes. Press and hold the key for 3 seconds for shutdown. The "+" and "-" buttons are volume buttons. The projector has built-in hypnotic music. Under low volume after startup, users may press the "+" button to switch for the next song. This feature is only available when a TF card is inserted
6. Adjustable Display Angle: 45 degree tilt, allow you to project the light straight up or point in a different direction according to your needs. Perfectly fit for any Holiday Party Decorations to create an enjoyable and relaxing bedtime experience for children or even adult, soothe and comfort kids to sleep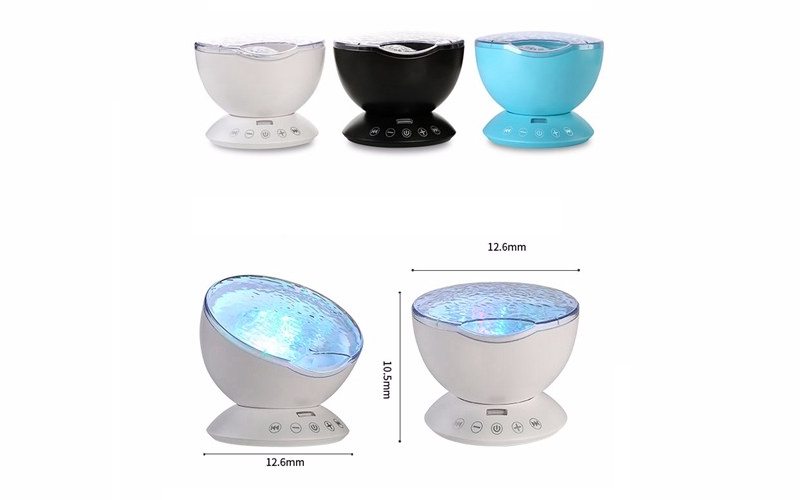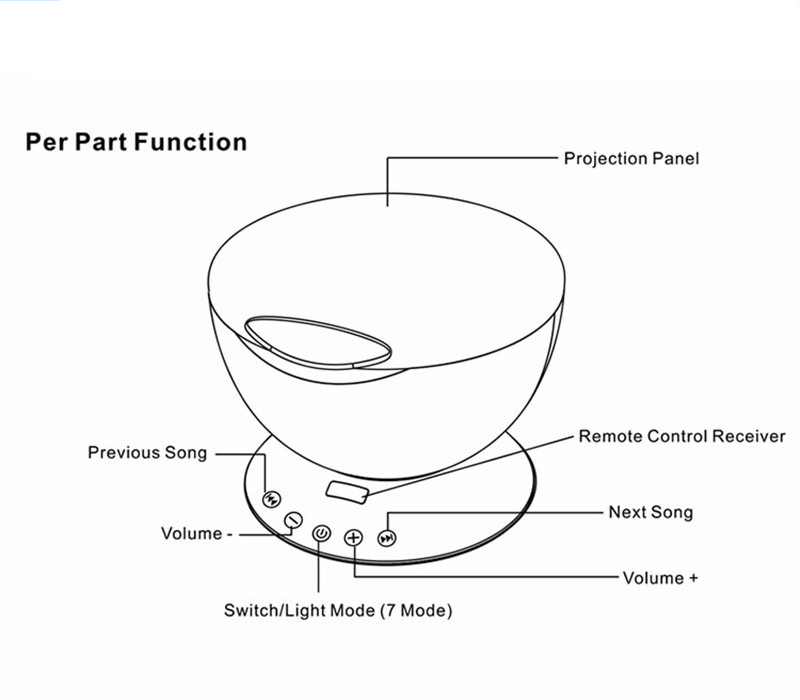 Specifications:
Product size: 12.6*12.6*10.5cm
Rated power: 2W
Rated voltage / current: DC5V/1A
Product net weight: 300g
Gross weight: 450g
Product material: ABS
USB length: 1.2 meters
Audio line length: 0.6 meters
Package content:
Ocean Projector *1
3.5mm Audio Cable*1
USB Cable*1
User Manual*1
US Plug*1
​
Refund & Exchange accepted, worldwide shipping, multiple shipping choices. Read the FAQ for details.